One of Jack's first e-mails was about Jim Walker's Whip Power planes produced during the 1940 for those modelers who wanted to fly U-Control but could not afford a gas engine. It was also a good trainer for U-Control flying. Here Jack is referencing the Whip Power model. At the time I had no Idea he was 13 years old.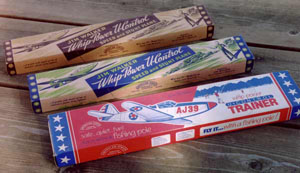 3/5/2011
I am a big fan of all of the 40s nostalgia and I would like to know where I could purchase such a model or where and how I could obtain instructions and or tips on building and flying one of these models. If you cannot help me with this project would you please direct me to someone that can?
Sincerely,
Jack Powell
I replied with information about Frank Macy passing away and my efforts to continue the American Junior history. Here is a photo of Frank Macy flying one of the Whip Power models.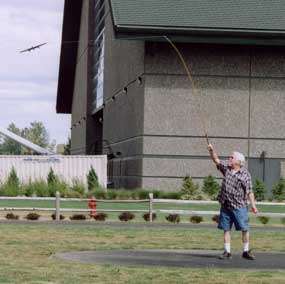 3/6/2011
Now I have heard Mr. Macy has since joined Mr. Walker building models in the heavens far above, but are the products still manufactured? Don't get me wrong Guillow's and all of the others are great company's however there is something about them that lacks the reliability and character in an American junior aircraft. I hope to replace my flimsy Jetfire and Sky Streak with the quality Jim Walker maintained. I hate to feel like I am asking a bit much but, could you also keep me up to date on all the A-J news?
Jack Powell
I wrote back: Jack, I was born in 1953 and got into model planes in the early 1960's. There were a lot of fun and simple planes to fly that did not cost much. It is sad to see how much has changed over the years. Frank and I tried to keep the dream alive by producing some of the classic old models. On the A-J website you can see the latest clip of Frank and some of his old collection of American Junior planes. He is speaking of one of his goals and that is to reach the kids. This model airplane hobby has gotten to be something for the adults and they have forgotten how much fun it was to discover these things as a kid.
3/9/2011
I would agree completely; however sir, I am only 13. All my friends say I'm crazy for enjoying the simple things and getting outdoors, but in my mind it sure beats the heck out of sitting inside and playing video games. All their comments do not stop me from being interested in model aviation, well aviation period (I'm even getting my pilots license). So, do not think of me as one of the modern kids who listens to Rap music or whatever is popular now, think of me as someone your age trapped in a teenager's body. I hope this does not damper our conversations, however I see it as two people talking about the glory days of America.
Thank You, Jack Powell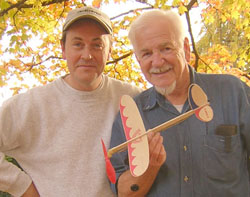 I sent Jack a photo of Frank and me holding factory original Hornet. With a little history on myself.
3/11/2011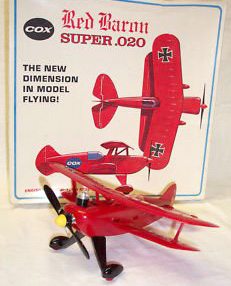 Wow great stuff, I asked my dad if he ever got into the U control flying and he said that one Christmas, when he was around 8, my grandfather got him a plastic red baron u-control plane. This was the BIG present of the year and he and his brothers were so excited, but even more excited was my grandpa. So they took it out to a field and made it a makeshift airfield circle. The plane took off, made about 3 circles, and pulled quickly up, and with a sickening screech from the engine nosedived and shattered. Of course my dad and brothers never got to play with it because my grandpa was testing it first. There goes Christmas. Any way it brought back memories seeing your RC plane with the imperial German cross and red paint.
Does any company still produce or are there any Jim Walker gliders for sale? The hornet looks very sleek. Another quick story about these planes is once when
I went out to my Great grandparent's old farm, unfortunately not in our position any more, I went to the gas station and bought a "ROG" plane, I believe a Strato streak.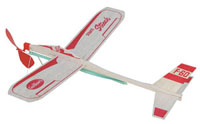 The Guillow Strato Streak
Well the thing barely got off the ground and once it did the rubber band was done, possibly the worst flights ever.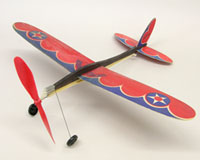 The American Junior Pursuit
So after seeing me frustrated with this plane my great grandmother told me she had one of grandpa's that worked every time, so she goes inside and brings out a AJ pursuit. Of course the thing leaps of the road and soars to twenty feet and then gently glides back down. The flighty was about 100 feet. After this my cousin and I convert this plane into a bomber to eliminate an ant hive. So after rigging a few cherry bombs onto it we set it a flight, miraculously it landed right on top of the ant hive and blew up in fire and sound. I'm kicking myself now that I ruined a piece of history all for a stinking ant hill. Well, just thought you would enjoy those story's.
Jack
Jack then sent me a photo of a "Hornet" he had made from Guillow hardware and other balsa parts he made himself. I asked him to report on how he made it, here is his reply: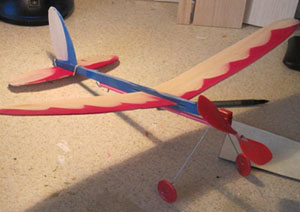 Jack Powell's home-made Hornet
4/24/2011
Well you were wondering about the wings, you could say I steam formed them, but I just used a hot clothing iron with the wing soaked in water. Now about the story, I went to the hobby store and bought a Guillow's Strato-Streak, I was excited to try it out because it was my first ROG since I was 7. Well I built it waited for a perfect day and, nothing, the plane would only taxi forward a bit as a "take off", when I tried throwing it would climb and stall and crash. I had been looking at AJ models and found a bit on the hornet. I figured I could do better than Guillow's so I went online, found a plan of the parts online, found the dimensions, traced the parts onto paper, and cut out the paper parts. I traced the parts onto a plank of balsa, and cut out the balsa parts. To form the dihedral and airfoil, I soaked the wing in water then found a triangle shaped object, curved the wing on it, took a hot iron and ironed the wing into the shape. After the dihedral was done I soaked it again and bent it to form an airfoil. I then made cuts in the fuselage for the rudder and wings. Inserted the stuff, bound the elevator stabilizer on and had a glider. Next I took the Guillow's engine mount and prop and landing gear and stuck them on the front. After this I tested it, found the tests PERFECT (and I mean perfect the plane flew in a solid straight line and climbed off the ground in no time), and took it apart cut paper stencils out for the wing rudder and such, spray painted the parts, put it back together, and found it was the best flying ROG I ever saw fly. Also every flight it landed on its wheels. I hope to do some more looking and use the catalog as inspiration to try and build other models. That's my story.
Jack Powell
I then sent Jack a damaged Whip Power Glider of Frank Macy's design for him to repair and fly. I also included a new Hornet steam formed wing and fuselage, I sent the tail feathers earlier, so he could now have a real Hornet to fly.

| | |
| --- | --- |
| | |
| Damaged Whip Power Plane sent to Jack | Here is a good version of this model |
5/9/2011
IT CAME! Wow, the whip power kit doesn't look in that bad of condition, so I hopefully will have it finished and flying by the end of this summer. Again I have to thank you for spending money for shipping, so instead of pictures how about a video of me working on it, flying it, etc. Hope it will re pay a bit of the money I owe you. Also thanks for the Hornet. Talk about a flyer. I thought mine was good, well even my dad was in shock about how fast it took off and how much climb it got, before making a gentle 3 point landing about 500 ft. down the road. My goodness I can't ask for more.
Thank you very much (you are nurturing a young eagle), Jack
We look forward to Jack's continuing reports and to see how his "Whip Power" repair project is coming along. I will share future e-mails, photos and video from Jack in this ongoing "Jack Powell Flight Report".
Thanks Jack, Scott Griffith