Frank Macy's Fireball Restorations
Frank Macy is at it again and this time he is deep into restoring original Fireballs to
their original glory. With the unique knowledge and extensive experience, he is probably the pre-eminant resident expert on Fireball history and construction. Growing up as a curious youngster in the same city as Jim Walker, he continues his passion for preserving the memory of Jim Walker and the wonderful innovations and inventions he left for us.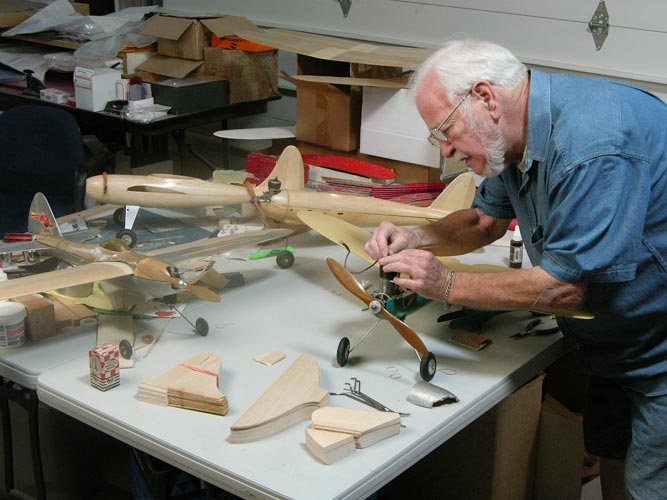 Here is a table full of Fireballs in the process of restoration. Frank Macy is seen here working on an ignition engine and an original Fireball. A note of interest is the Fireball in the background, off to the left. This is one of Frank's special projects. He calls this his Electric Fireball and it will have an electric motor. On the table are several replacement parts for the Fireballs in waiting.
| | |
| --- | --- |
| | |
| Frank Macy is doing some precision sanding while the "Interceptor Boy" in the background has fun with his Folding Wing Interceptor. | This is an original and historic Jim Walker U-Control Belcrank. |
| | |
| | |
| | |
| --- | --- |
| | |
| Each Fireball fuselage is custom fit for the intended engine. | A variety of hardwood motor mounts Frank has on hand. |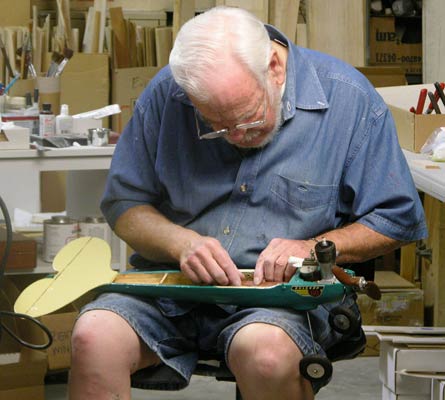 Jim Walker U-Control system is being fitted in this Fireball.
| | |
| --- | --- |
| | |
| The original damages piece of this Fireball nose is held above the restoration below. When painted, the repaired section will blend flawlessly with the original body. | Here is another view of the same work in progress. |
One final view of the current project table, as of October 2006. I could say that this is a dirty job but somebody has to do it, but the truth that there is no better feeling than seeing a Fireball come back to life and being part of that process. (Frank Macy passed away in 2009)