American Junior Classics Air Mail
From:
Colonel James Duckworth
Maryland, 1951
Rediscovering American Junior
By James Duckworth

( AKA Colonel Ace Gritz )
Christmas 1985 holds precious memories for me. You see, that year a relationship began that has continually grown as a wonderful fellowship and modeling experience second to none. Though still fresh in my memory I cannot fathom where the time has gone these past 20 years. To clarify, shortly before Christmas of that year I had seen an ad in a well known modeling magazine for an A.J. Fun Pak and a childhood spark came alive. Could these be the same model airplanes I played with as a nine year old boy? Let's go back in time.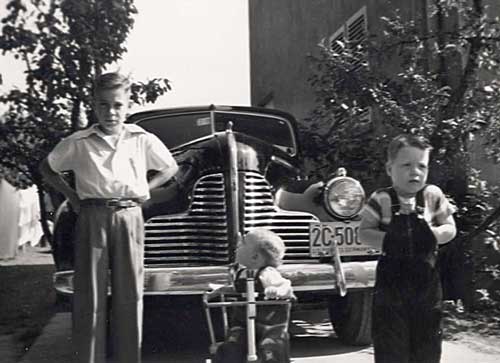 James on the left with his two brothers in Ft. Meade, Maryland 1951
The year was 1951. My Mother, my two brothers and I were in Ft. Meade, Maryland, awaiting orders to join my Dad at Kelley Barracks, VII Corps, Stuttgart, Germany. We lived in a basement apartment owned by the Cavey family. They had a daughter Barbara. Next door was another boy named Freddie Zoeler. Several other kids were within a shout of our apartment and all of us were into model airplanes. Barbara's Dad built them and we would watch him wind them up and taxi across the living room floor. Freddie's Dad was building a Speedee bilt F-86 Sabre jet and I watched him sand and dope the model. Down at the comer grocery store one could purchase Comet StructoSpeeds and Stick and tissue models, Guillows gliders and rubber band models as well as several other brands. We were really focused. As a group we were all sharing in building a Comet stick and tissue Globe Swift. We did not know anything at all about prop pitch, motor power, balance, trim or anything at all going about making a model really fly. The Swift just fluttered to the ground. Then Mom took me down to the neighborhood grocery store and we purchased a fifty cent rubber band model. When I opened the box, the aroma of that balsa, that big red prop on that metal front end hanger, that big rubber band, those balsa wheels, and that scalloped, elliptical wing simply eclipsed every other model flying that day. She assembled in seconds, even I knew where everything went, the prop was wound and I launched her into the wind. A gentle whining sound and a wonderful loop resulted ending with a beautiful glide and upright landing. That day a seed was planted in a little boy's head that has never been forgotten.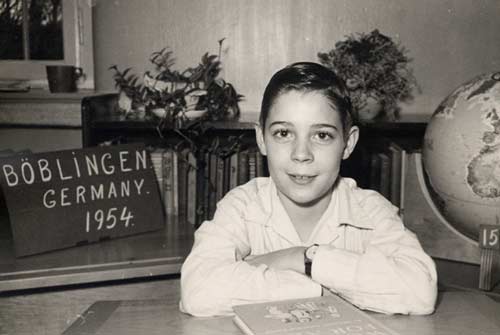 Colonel James in Boblingen, Germany, a suburb of Stuttgart in 1954.
Photo taken just before returning to U.S.
We left LaGuardia that year on a Seaboard and Western Airlines DC-4. The trip across the Atlantic was a long one, at least for a little boy. About a day or so later we landed at Frankfurt, Germany. Looking back, the three years in Germany were historical. Stuttgart was still rubble, the Marshall plan was cranking up to rebuild Germany and the cold war was on. American troops were in Korea. Three more pals. Dale Beluski, Jerry Odom and Dick Beggs, all of us military kids, ran together. One of these, Dick Beggs was into model airplanes like me. We all lived on the base in three story apartments which had been converted from German troop barracks built during the war. One Christmas, Dad took me to a German hobby shop and purchased a Webra blue head 1.5 cc diesel. He would crank it in our quarters and rather irritate the other families in the building. Dad and Mom have gone on now but to this day I still have that little engine. The three year tour ended for Dad and we came back to the States, this time to Ft. Benning, Georgia, We flew back via a KLM Constellation. That's another story but during the three years at Benning, I had my first ride in a light aircraft, the Taylorcraft.
I grew older and Dad's service career ended in retirement as a CW05. We settled at Iron Station, North Carolina and I graduated from High School in 1960. However, at Iron Station, I mail ordered an A.J. Hornet from America's Hobby Center, this time she had a free wheeling prop and plastic wheels. You can guess that I lost it one day, she just kept going and going and going. During all those previous years I had never really been with anyone that could coach me thru control line flying. I finally buih a Scientific Golden Hawk and mounted a Thimble Drome .049 on it. College came into the picture and my modeling days temporarily stalled.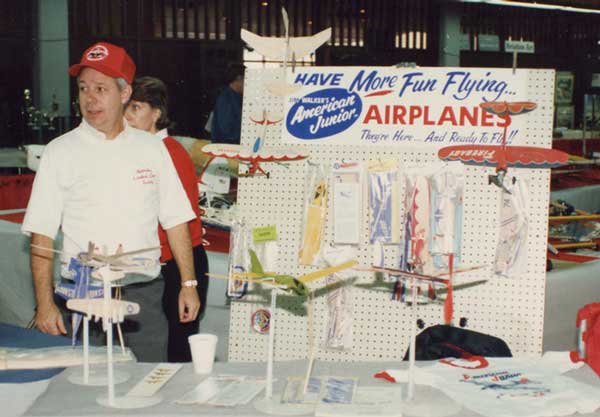 At a Christmas Model show at the Merchandise Mart, Charlotte, North Carolina,
probably in the late 1980's. Some of Frank Macy's A-J Products are on display.
A pretty little brunette found me one day and that was the end of my bachelorhood. Next came our first home, then the children started. One day Betty walked in with a Comet stick and tissue Nieuport 17. The embers had never gone out and, like a bellows, the fire ignited once more. I didn't earn much then, about $1.25 an hour and family priorities and bills came first. I just couldn't scratch up enough to get into control line. Finally we built our current home and along about the summer or fall of 1985.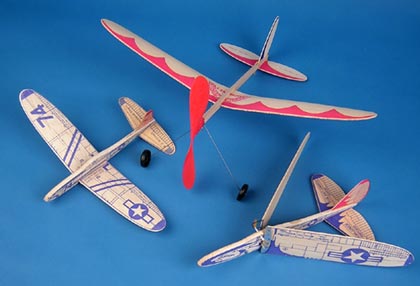 The American Junior Fun-Pak contained the 74 Fighter, Hornet and 404 Folding Wing Interceptor.
I sent off a check for the A-J Fun Pak but when the box arrived, no Hornet was in it. I really didn't know about Jim passing away in 1958, or about the company being acquired by Pactra, or even about Frank Macy who had obtained the rights to reissue the American Junior Models but that was about to change. A letter went off to Frank Macy about a moping husband remembering his A-J Hornet.
Shortly a package arrived. I do believe Frank Macy was slightly dubious of that letter but, being the wonderful person he is, he let go of one of his own American Junior Hornets. What a wonderful Christmas present. I think "General" Frank sensed the honesty in the letter. From that point, the path has been a mutual friendship that just grows and grows.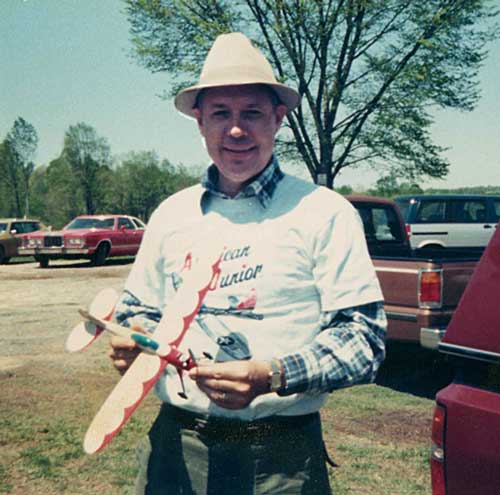 At a contest meet, probably early 1993, with the "Firebebe", an actual
flying .020 mineature of Jim Walker's post-war Fireball .
Yes, I now have Firebaby's and U-Reely's, and Fireballs, and Hornets, and 404's, and 74's, and Interceptors, and Firecats, and Firekittens, and 0& R .23 ignitions, and Firecrackers, and a whole library of correspondence which is pure American Junior history, not only about the original company started by Jim but also of Frank and me. We have worked on projects together and I have represented A.J. on the East Coast. I've built an .020 powered Fireball, called the "Firebebe" and flown it, built just almost like the original full size, carved fuselage halves and all. We even have an acknowledgement from the late President Reagan thanking us for his 404. There is a letter from the late Terry Sanford, former Governor of North Carolina, thanking us for his as well The A-J Hornet and 404 fold wing glider have been seen in Iraq, held by an American Soldier sitting in one of Saddam's throne chairs. The 404 and Hornet have been flown off Flat Top Mountain in Johannesburg, South Africa,. The dream lives on as evidenced by the recent launch of the American Junior Web Site and eBay Store of American Junior Classics products. Our local control line club, the Metrolina Control Line Society, includes an A.J. event in it's two contests each year.
Approximately three years ago I flew out to McMinnville, Oregon and visited with Frank. We toured the Evergreen Aviation Museum, now home of the Spruce Goose, went up the Columbia River and saw the salmon spawning, went to Oregon City, the end of the Oregon trail, and we even cooked up some grits! No, one can't buy grits in Oregon as far as I know so I sent a box over beforehand. I toured the Model Aviation Museum there and Frank's American Junior display. My mouth watered at all the beautiful models. I can never thank him enough for being such a gracious host.

Colonel James checks outFrank Macy's A-J display at the
Model Aviation Museum in McMinnville, Oregon in 2002.
Today, there is a Museum in Stanley, North Carolina containing American Junior artifacts and models primarily a result of the graciousness and generosity of Frank. The Company and it's original founder continue to evolve through the efforts of Frank Macy who has sacrificially given his all to bring happiness to Senior, in between, and Young Americans. And we must include the rest of the world in this mention for American Junior models have been flown in many countries. I am proud to be associated with this gentleman and his dream.

Original A-J Hornet with metal prop mounting and balsa wheels
on disoplay at Eastern A-J Museum.

Colonel James Duckworth
March, 2005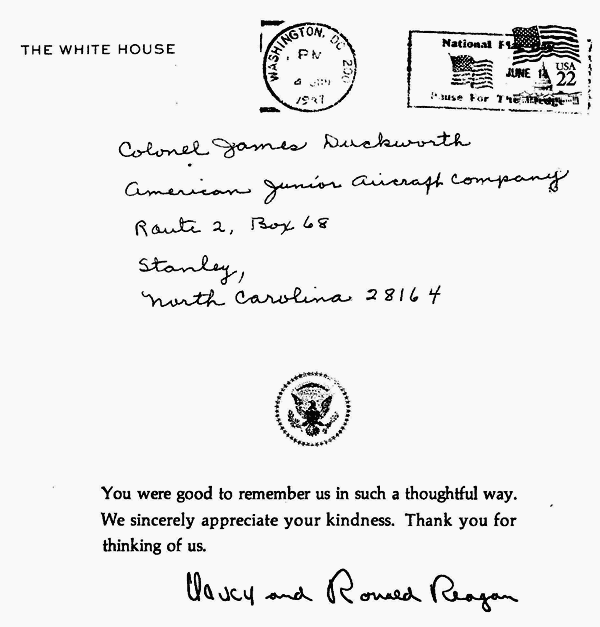 Acknowledgement from the White House and President Reagan upon receiving a folding wing 404 Interceptor from "Colonel" James Duckworth.
| Home | FireWire News | Airmail Index | Jim Walker | Hornet | Contact Us | A-J Store |