American Junior Classics Air Mail
From:

Barry Kiefaber
Ohio, 1950's
Memories of successful flight with Jim Walker's planes
I was born and raised in Dayton, Ohio and was facinated with model airplanes from the first time I saw one fly, more than likely before I was 5 years old. When I was 6 years old, we moved to Kettering, a new suburb at the time (1950) across the street from Oakview Elementary School. Our house was directly in front of the well manicured grassy yard where the teachers parked. From the start, it was a great place to fly 1/2A U-Control models. When school wasn't in session, you could take off from the concrete parking area, and then step back a few feet and fly over the grass.

Me at 6 and my dad had already bought me a couple
A-J Hornets, and I was able to fly them by myself.
First American Junior "Ready-to-Fly" Model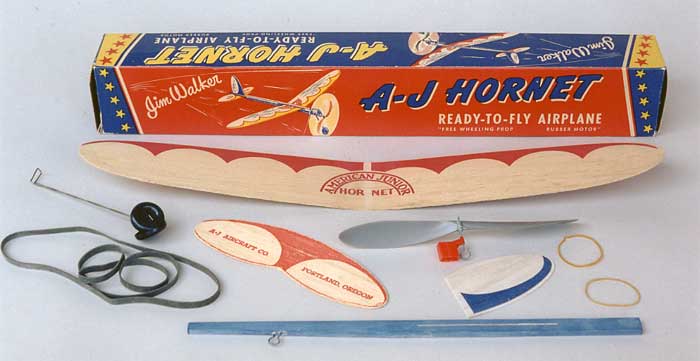 My story started when we moved to Kettering. We had a combination hobby, sporting goods store in the new shopping center 2 blocks from where I lived. It was called Miller's Sporting Goods. My dad would walk down to Millers with me when I was good for a while and buy me an A-J Hornet. I remember the smell of the big rubber band that came with it, and the square box it came in. I probably had several dozen of them growing up,and I remember they would fly higher and longer than the testor's version that was out at the time. I even remember a few of them thermaling on a hot summer afternoon, and flying farther away than I was alowed to go. I remember most of them met their demise from over winding, and breaking the fuselage in two pieces, but within a few weeks, Dad would buy me onother one and I would have fun flying for a couple more days until I broke that one.
I also remember once when Miller's was out of the A-J Hornet, my dad bought me an A-J Intercepter. I had a hard time at that young age pulling the airplane back far enough with the rubber launch stick, to get it very high, but I could always find one of my older friends to launch it for me, and it was amazing at that young age at the altitude it would reach. I'm sure in most cases it was 50 or 60 feet, but to a 6 or 7 year old boy, it was half way to the moon.
There was some older boys who lived near by that would come to the school on week ends and fly their U-Control models. I of course wanted one, so the Christmas I was 8, Santa brought me a red plastic ready to fly airplane with a wen-mac engine. My heart came right through my chest at the thought of owning my first REAL MODEL AIRPLANE! I was happy as any kid could be, until a few months later, when the snow melted and the spring arrived, my dad and I went for the first time to fly my Christmas Present. Boy was I disappointed. That airplane wouldn't fly worth a darn,and it was a good day to even get that powerless tempermental engine to even run.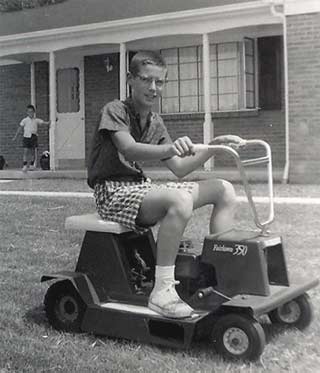 Twelve years old in 1959 at our new house. By than I had already had a few Firebabys and was capable of flying them pretty well.
We took it down to Southern Field one sunday afternoon to try and get help from the older guys who knew how to fly well. I remember one of the guys came over to help us. He looked at my airplane,frowned,and just said: "He will never learn to fly with that airplane. It won't run well and is too heavy." My dad asked him what to do, and he said: "Go to Miller's Sporting Goods and get a Jim Walker Firebaby. Buy either an OK Cub 049,or the new Cox Thimble Drone 049. Throw the metal prop away that comes with it and buy about a dozen plastic 6/4 props, because you will break them, but a firebaby is the best airplane to learn on."
I had an older friend down the street that flew. He was 4 years older than me. I think his name was Corky Shaw, and he became my hero. He had a lot of patience with me, and by the end of the summer, I could fly the Firebaby all by myself. My dad bought me extra wings and props, and I got very good with my Firebaby. They would hit the ground and due to the light weigh, had minimal damage, unless they crashed on the concrete. I think most of the damage I had was from picking it up by the wing, and cracking it in two. I'd clean it with alcohol and put a bead of Testors Model Airplane Cement on it and extend it for a few more flights.
We even had at one point, about 5 or 6 of us with firebabys and we would use them to fly combat. I got the idea to remove the wheels, and use the 45% nitro fuel that cox sold for it's cars. I won a lot until the rest of the guys saw what I was doing, and than they did it too. I remember in those days, Miller's carried OK Cub Fuel, in the yellow cans, Thinble Drome in the blue cans, Blue Blazer in the dark blue cans, (I think the fuel itself was tinted blue), and of course Testors Fuel. All were good fuels except the Testors. It was no good. The blue Blazer was the best, and the most expensive. In those days, It was almost a dollar a quart, which would last forever flying half A U-Control. The K&B fuel was new then, and I don't remeber much about it. I usually used the OK Cub, and it was always a good fuel for the Half A's.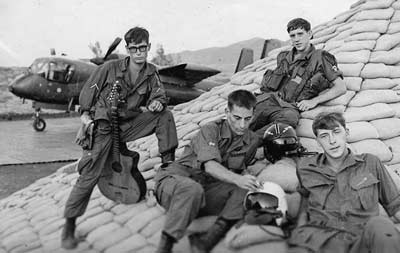 In Viet Nam playing with the big airplanes. That is an OV-1 Mohawk. I was a technical observer and navigater and oporated the infa red equipment. That's me on the far left. By The Way, the guy on the right is a friend of mine named Andy Slatt. He's from Portland, Oregon and I'm sure knows who Jim Walker is.
After a while, I started building the Scientific Kits. My favorite one was the super stunt master. I think I built most of them over a several year period, but the Firebaby was always a favorite, and I'd always have one or two of them ready to fly. I eventually started building 35 size models such as the ringmasters and noblers. By this time I was in High School, the Jim Walker models disappeared from the shelves, and modeling changed. Years later I got into RC, and still love it, but I still remember my first years of flying models, and the A-J Hornet, 404 Interceptor, and my all time favorite, The Firebaby.
| | |
| --- | --- |
| | |
I'm now back from Nam and stationed in Fort Huachuca Arizona, met my wife Judy. She is helping me fly my Sterling Yak 9 with a K&B Torpedo green head 35 engine. Pic 5 is something I forgot about. The day Judy and I were at the High School Yard Flying, A reporter with nothing better to do came along to watch. This article ended up in the paper two days later. Obviously there wasn't much going on out there in 1969.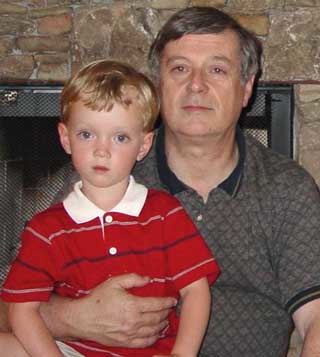 Me recently with my 5 year old Grandson Hagan. He is a died in the wool John Deere Fan. One of these days maybe I can turn him on to airplanes. Heaven knows I've tried !
I was thinking last night, that there was so many plastic airplanes like the wen mac and all those testor's models, that didn't fly very well, and if it wasn't for Jim Walker, a lot of guys like me would have gotten discouraged and never stayed with this great hobby of ours.

Barry Kiefaber
| Home | FireWire News | Airmail Index | Jim Walker | Hornet | Contact Us | A-J Store |