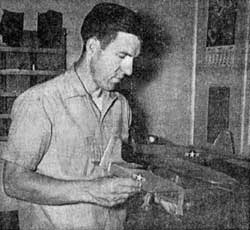 Bob Smurthwaite holds his finished design for the Jim Walker "FireBee."
One of the most talented people that worked for Jim Walker was a gentleman modeler from Baker, Oregon by the name of James Robert Smurthwaite. He preferred to be known as "Bob." Bob worked for American Junior before WWII, while awaiting his orders to report for duty in the Army Air Corps. He served in the "Flying Tigers" in the CBI (China, Burma, India theater). After the war Jim Walker was happy to have him back. Bob was employed at A-J in Portland, Oregon from 1945 to 1948, and loved working for the company, and everything about it. He kind of had free reign in tooling and design of new planes. He often said to me, "Jim treated me like royalty in everything I did."
There was one problem that kept gnawing at Bob though, he immensely dis-liked the busy big city environment of Portland, being a happy country boy from Baker, Oregon. Having served for several years in the military and the strange lands he visited during the war, he yearned for the quiet country life again. His dislike for Portland grew to the point that he intended to move back home to Baker (now Baker City). Jim was very alarmed with this situation, and disperately searched for possible alternatives.
Bob was an easy going, laid back type and not argumentative at all. But he made his mind up, and fully intended to leave Portland. Since the war, Bob had worked on and perfected the new designs and tooling for two gliders that were soon to become very popular nationally. Those two models were the re-designed folding wing Interceptor (now to be known as the "404" Interceptor) and its sister ship, the "74" Fighter. The "404" would replace the old 1939 "Army" Interceptor, which was the model used during WWII as a Target Flyer for machine gun practice. The wing span of the "404" Interceptor was reduced from 19 1/2" to 16", and the fuselage was reshaped with smooth rounded edges, utilizing the wood better and at the sometime reducing costs.
The "74" Fighter would replace the old WWII glider, the "Americobra," which was a P-39 facsimile and it was therefore also an obsolete design. The "404" and "74" both updated the graphic designs to portray new "Jet" Fighters. Both models featured the smooth rounded edges of the fuselages, which the company called the new "Sleek-Kurve or Curve" fuselages.
It was a "bee's nest of activity" as Bob was preparing to move back to Baker. Jim was in a dilemma because he didn't want to lose Bob, but on the other hand, he accepted Bob's decision. What to do-?? He offered Bob higher pay, and even offered to set him up in his own shop, away from the current shop at 31st off Sandy Blvd. None of these ideas worked. Then it hit! Suddenly an idea that would work. Jim offered to set up a shop and production facility, owned by American Junior Aircraft, in Baker, or LaGrande, or wherever Bob wanted it, and hire him to run it as his own! Bingo!! It worked - Bob was elated, and so it was done. It was truly a win-win situation.

Bob Smurthwaite's Baker, Oregon facility. This was purchased and equipped by Jim Walker for Bob.
By the time all of the moving was done, and the new shop (actually an older existing building) equipped with tooling and machinery was ready to go, much time had elapsed, and Jim had been very busy with his new Ready-To-Fly (RTF) airplane for the tiny new glow engines known as the 1/2A engines, now just coming on the market. The model Jim Walker designed was a RTF model that utilized his U-Control, control line system, and he named this new American Junior Model the "Firebaby." Meanwhile, the new "404" Interceptor and the "74" Fighter had taken the country by storm. 1947 was a record year for American Junior, and the next few years would only get better as the new planes gained fame and popularity.
The Jim Walker Beechcraft Bonanza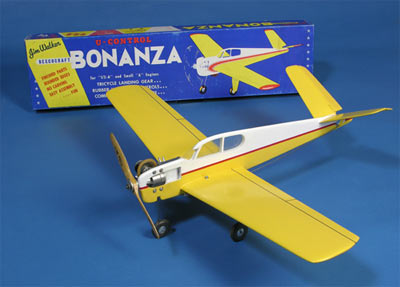 The first production kit that Bob Smurthwaite produced for A-J from the Baker, Oregon plant was the Jim Walker Beechcraft Bonanza. This model was completely designed by Bob, who also made all of the tooling for its production. Jim was so impressed with all of Bob's work, and this plane was no exception. He gave Bob a contract for 125,000 of the Bonanza kits. The kit was an all balsa profile model of the Beechcraft V-Tailed Bonanza, with a wingspan of 20". The kit featured wood pieces cut to shape, with excellent fit, and no carving required. Easy to follow instructions/plans - just assemble, glue and sand in preparation to painting for the very precise and simple fool proof assembly required. This writer owns Bob Smurthwaite's original prototype. The box size was 2" x 5" x 20 1/2" - predominantly blue legend reads: Jim Walker Beechcraft Bonanza - U-Control for "1/2A" and small "A" engines - Tri-Cycle Landing Gear, Rubber Wheels, Controls, Complete with Hardware - Finished Parts, Rounded Edges, No Carving, Easy Assembly...Fun.
The Jim Walker "F
IRE

B

EE

"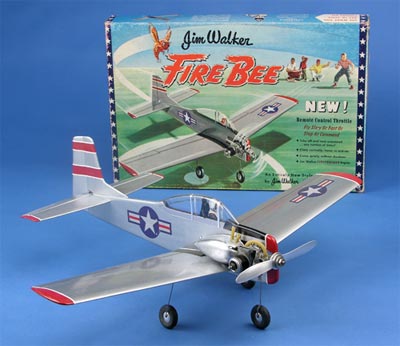 The second production kit from the Baker, Oregon plant was the Jim Walker "FireBee." This model plane is a profile of the North American T28 Trainer. Legend: New-Remote Control Throttle, Fly Slow or Fast or Stop at Command. Take Off and Land Unassisted, Any Number of Times - Climb Vertically, Hover in Mid-Air, Cruise Quietly without Dizziness, Jim Walker Firecracker Engine. Box size: 2" x 10 1/2" x 15 1/4".
At about the 55,000 mark in the production of the V-Tail Bonanza, Bob presented Jim with his new profile T-28 Trainer that he built for Jim. Jim was so impressed that he flew it all day long at the flying circle at Delta Park in Portland. Bob said he flew it until dark, and wore out 3 sets of brakes on the plane. He was so tickled over the various things you could do with it, he decided to cancel the Bonanza contract, and told Bob to make 125,000 of the T-28 Trainer, which he ultimately called the Jim Walker "FireBee." It's interesting here, because this plane came with the new Jim Walker .065 disp. Firecracker engine, with remote control throttle. Whereas, the Bonanza advertised you could use any "1/2A" engine, or the "Firecracker" engine, or any small "A" size engine.
This is the protype T-28 Trainer that Jim Walker flew all day. Jim's fingerprints are still on the wing from that day of flying.
The prototype T-28 Trainer that Jim Walker flew all day long (until dark) had wheel brakes (as mentioned), a special miniature 3-line bellcrank that Bob designed and built, a larger gas tank and wing flaps to enhance take-offs and landings. This prototype is also in this writers' private collection.
An interesting observation that should be mentioned is that Bob introduced the rounded edge fuselage (Sleek-Kurve) to Jim in the Summer of 1946, while he was designing the "404" and the "74" model gliders. He liked it so much that he made that his trademark feature on all the planes Bob produced for Jim Walker thereafter.
Note: All balsa used in A-J production was the finest quality, weight and grade available. Bob was an expert on balsa wood grading and selection.