I met up with a group of older boys who were flying "U-Control" gas powered models near my home in Wilmington, DE. Now, I had been building model airplanes from about the age of six, so when I saw these models fly, I was hooked! These flyers belonged to a club named "The Model Gasliners." Several airplanes being flown were converted free flight models. One was a Buccaneer "B" Special powered by an Ohlsson 23 and that had a one-quart fuel tank. It would fly for what seemed to be forever, and the club members took turns flying it. One flight I remember was for 45 minutes. The favorite model, however, was the American Junior "Fireball," of which there were several.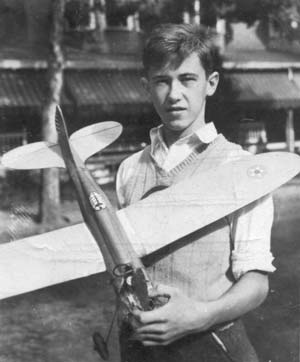 Bob's first Jim Walker Fireball, about 1941.
The hobby shop at this time was "Knowles Hobby Shop" in downtown Wilmington. I saved grass cutting and paper collecting money to buy a Fireball kit from Knowles, as I recall for the princely sum of $7.95. I also bought a Rogers KD-23 for about the same cost. As you can guess, the Fireball never flew with the Rogers engine, but my then new brother-in-law bought an Ohlsson 23, and I was in business. Learning to fly was not difficult, as the Fireball was a dream to fly.

At this time, 1942, American Junior Fireballs became very scarce. I needed to replace the wings on mine, so I wrote to Jim Walker at American Junior asking if I could buy spare wing skins, and perhaps a full kit. Imagine my surprise when a week or so later I received in the mail three sets of wing skins and ribs! Jim enclosed a nice note stating that he was sorry, but he would have to have me pay for a Fireball kit. As I recall, the price, including shipping, came to $10.00. I ordered a kit immediately.

During the war years, I built several more Fireballs. Some had the ridge down the top of the fuselage, while others were the bubble canopy model. Jim Walker never let me down when I ordered a kit. I used several engines in my Fireballs, including the Ohlsson 23, Bunch Tiger, and Brown D. The Brown D was used so much that I had to replace the piston. I financed my model building by working in Knowles Hobby Shop after school and on Saturdays.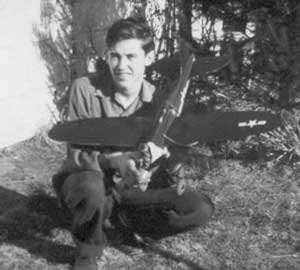 Fireball sent from Jim Walker during WWII.
I became interested in control line speed, and designed most of my competition models. I won many contests around the East coast, and on 1 August, 1946 set a National Record for Class V (McCoy 49 engine) at 108.8 mph. On the basis of this win I was accepted for the 1st Plymouth International contest. It was at this contest that I finally met Jim Walker. He was everywhere! I remember him tossing his little gliders around in the hotel lobby, circling posts and catching them in his hand. He said that he remembered me from my letters begging for help, and allowed me to help with his three plane demonstration flights.
I was able to attend the next two Plymouth meets, and made it a point to speak with Jim during each. At the 3rd Plymouth, I set an international record in Class B speed with a McCoy 29. The record trials were managed by Matty Sullivan (of Sullivan Products, suppliers of lines and accessories). I had met him during his sales visits to Knowles Hobby Shop.
Another WWII era Fireball (#4) from Jim Walker's
American Junior Aircraft Company.
My modeling was interrupted when I entered the U.S. Air Force in January of 1951. While an Aviation Cadet at James Connally AFB in Waco, TX, a fellow Cadet and I visited the National Model Airplane Meet held that year in Dallas. Here I again met up with Jim Walker, and assisted in his 3 plane demonstration. This was the last time I met with this wonderful gentleman.
I went on to fly 72 combat missions in F-80s in Korea, and after leaving the Air Force in 1955 went on to work in the development of aircraft arresting gear, mid-air recovery systems for satellite capsules and drone aircraft, and the launch and recovery of unmanned aerial vehicles. (The net on the battleship that recovered the Pioneer UAV during Gulf War I was one of my projects.)
My accomplishments in aviation are being recognized on October 11th 2003 when I will be inducted into the Delaware Aviation Hall of Fame. I like to think that the models I built that were the product of Jim Walker's mind played a big part in my interest in aviation, and led me to a fruitful career in that field.

Sincerely,
G. Robert Veasey, Sr.